Art in the Library: September
June 21 @ 8:00 am

-

August 26 @ 5:00 pm
Downstairs Gallery
"From the Sketchbook" Drawings by Sarah Alexander
August 27th September 28th

Sarah Alexander is a contemporary artist who works with multiple materials and mediums with a focus on watercolor, drawing and painting using unconventional surfaces and techniques. Her work is highly detailed, layered and fluid. She creates through a stream-of-consciousness and the resulting depictions appear gravity-defying. This exhibition of Sarah's work focuses on her wonderful and unusual drawings.In Sarah's words:
Using drawing and painting as a method of processing observations, emotions, and experiences has always felt natural to me.  Sparked by obsessive curiosity, and without restraint, I purge all that perplexes and fascinates me into my work. My current series focuses on the results of excessive daily intuitive drawing sessions. The results of this visual brainstorming have produced a whole new body of work which has a surreal feeling to it. The subjects for any given series are symbolic of what I am processing at the time.

Upstairs Display Case
Little Golden Book Exhibit August 28–October 30, 2019
Nostalgia for ones childhood is often made up of the little things: a favorite plaything, a particular birthday party, the unconditional love of a family pet, or a story read again & again from a little Golden book. These original editions represent years of finding by chance or searching through book dealers the favorite childhood books of one Metrowest library patron. Each Golden Book evokes for her a warm memory of a time, place, or individual.

Little Golden Books are still published and available in bookstores, although the original twenty-five cent cover price has increased by as much as tenfold. Some people create a collection with the belief that it will increase in value "some day."  These books were brought together guided by the wisdom "collect what you love."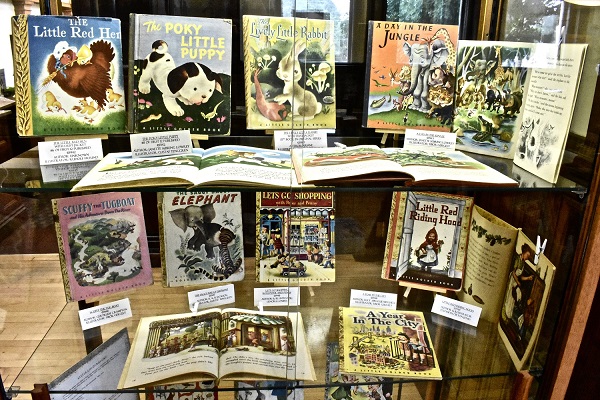 Long-Term Exhibits

Anthony Antonellis is exhibiting five of his unique wood creations in the fireplace lounge area, adjacent to the main circulation desk, and another one is exhibited near the public computers. The pieces are intricately patterned wood assemblages, carefully crafted and finished. Enjoy this visually dynamic exhibit.
On extended loan, in the downstairs conference room are photographs by Bill Horsman, a commercial and fine art photographer who has exhibited in the library and currently has his studio in downtown Ashland.
If you are a collector and would like to share your collection with the Library community by exhibiting all or part of it in the locked display case near the main circulation desk, please contact Larry DeJong at leftaris@gmail.com. Leave a short message and a way to contact you and he will follow up with you.